A lot of categories which the sellers would most commonly want to sell requires approval from Amazon.
These are known as 'Restricted Categories On Amazon' or 'Ungated Categories On Amazon'.
Amazon Australia has it's [color=rgb(3, 169, 244) !important]own set of restricted categories, but we"re talking about Amazon US here.
Additional Read: [color=rgb(3, 169, 244) !important]Best Selling Products On Amazon
Every marketplace has a list of categories that are monitored and approved only if the seller provides [color=rgb(3, 169, 244) !important]proper safety documentation.
Here's the list of ungated categories on Amazon US, that most sellers want to sell in but require approval from Amazon.
Clothing and accessories
Shoes, Handbags, and Sunglasses
Watches
Fashion Jewelry
Health and Personal Care
Beauty
Grocery and Gourmet food
Luggage & Travel Accessories

The criterion to sell on the categories requiring approval
You should be a pro merchant.
The defect rate in the order should be less than 1%
Pre-fulfillment cancel rate should be less than 2.5%
The late shipment rate should be less than 4%.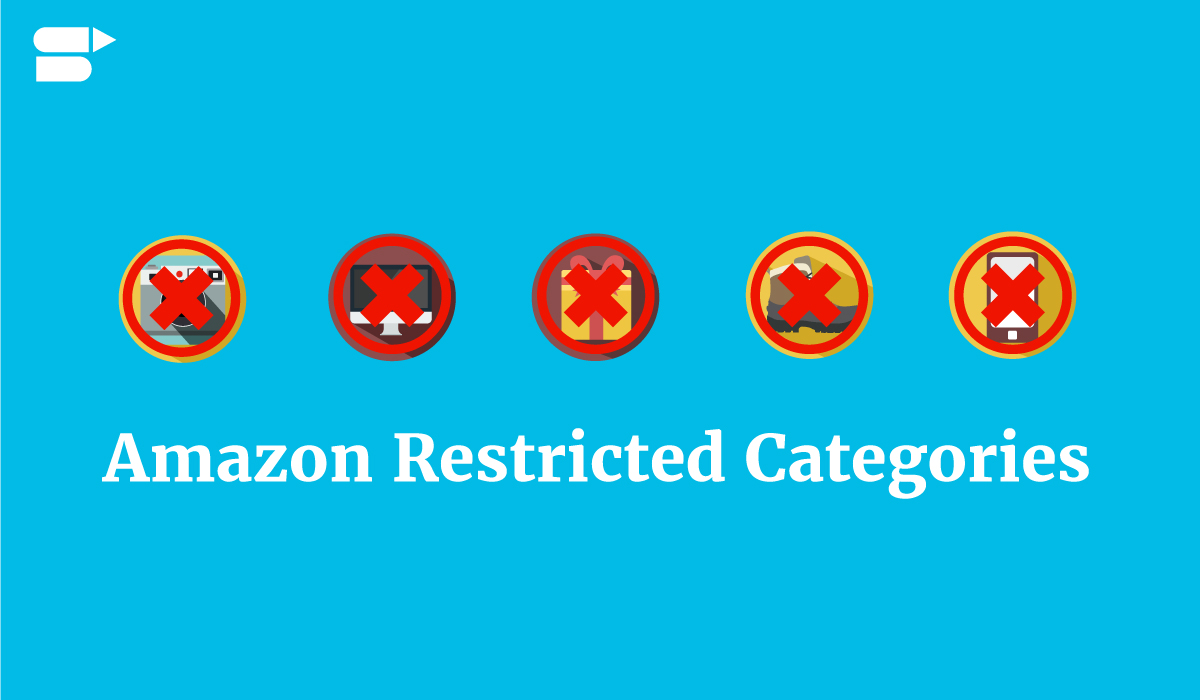 How to get approval in Health and personal care, beauty or Grocery Ungated categories
These 3 are the hardest categories to get approval, the reason being that they lack specification of documentation. In order to [color=rgb(3, 169, 244) !important]get approvalin these categories, Amazon needs to be provided with the invoices.
It is also likely that communication received from different agents may vary.
You must have a lot of patience when trying to get approval in these categories. Amazon presently requests sellers to provide the commercial invoices from the suppliers of good repute.
The retail receipts do not work in getting an approval in these categories.
The best way you could get a commercial invoice would be to purchase directly from a [color=rgb(3, 169, 244) !important]wholesale company. It's best to ensure this by speaking to them directly if they would provide the commercial invoice at purchase time.
The invoice must contain the name, address, phone number and the website.
Your company name should appear as it is on your Amazon seller account. The address should be the same as that on file.
Getting approval in Shoes and handbags, Clothing and Accessories, Watches and Jewelry


The application process has a few questions. On the basis of your answers, you can get instant approval.
Amazon asks questions about products that are intended for sale, your business model, and intentions behind applying for the category. The questions would not require any separate beforehand preparation.
Amazon typically wants you to be purchasing either from the brand owner or the manufacturer. Declining to both of these would result in you not being able to move the application forward.
Now, let's get into the Step-by-step process
THE REGISTRATION AT AMAZON
To sell your products on Amazon, you will need to create your own seller account. Go to the Amazon homepage and click on the link "Sell". Alternatively, you can also call for live support.
Amazon would like to know from you whether you want to sell "single" or "many" products. Whether you want to try selling products at Amazon only? whether you are a private seller? A professional dealer?
You have the possibility to [color=rgb(3, 169, 244) !important]change the selected vendor status at any time later and can try out the sale version for individual products, in order to get an impression.
If you decide on a "Professional Seller" account, Amazon charges a monthly fee (the first 30 days are currently free). For a private seller, the charges are per item. In this respect, the Professional Seller Account pays off quickly. Apart from that, the private account has tools that you need to successfully sell on Amazon.
Once you have made your decision, you will be redirected to the Amazon login page. If you already have a customer account at Amazon, then you can use its data to sign up. If you do not already have such an account or want to keep your shopping separate from your sales activities, you can open a new account by typing another valid e-mail address and password.
Amazon informs you now about a few formalities – valid regulations, rules for salesmen etc. – to which you must agree. Afterward, you must fill a series of forms with your company and business information.
Finally, there is telephone number verification. This completes the setup. The verification of the data and documents can take a few days. Once this process is complete, you will be notified and can start offering your products on Amazon.
One of our customer, Blanka Stefanescu, had faced a few issues while getting approved for restricted categories. She joined Ankitha, our Customer Success Head, for a SellerSPEAK session and told us what works for her. WATCH:
TAXES & LEGAL
Within the settings for your seller account, you should specify the legally required data at the very beginning, in order to avoid subsequent conflicts with customers or warnings. You can find the appropriate area at the top right under "Settings> Your information and guidelines". Also, if applicable, include your VAT ID in the registration form. Only in this way do you get sales-exempt invoices from Amazon. If you have not done it yet, then you can continue the registration nevertheless first by giving in upper case "NO" and carry the sales tax ID simply after.
PROVISIONS AND PROHIBITIONS
You will really enjoy on Amazon as a salesman owing to the many possibilities and options to sell your products successfully over the virtual landscape. There are certain rules and prohibitions to which you must adhere. During the enrollment process, you will have the opportunity to access the appropriate policies and regulations. You should make use of this because if you violate the regulations you will fly faster than you can see. Depending on the violation, you will get warnings or even complete exclusion from the[color=rgb(3, 169, 244) !important]Amazon Marketplace! So I can only suggest that you carefully read the existing guidelines.
AMAZON PRODUCT LISTING
Amazon offers its sellers two options for listing products. You can either create them all individually or upload larger quantities of articles by a text file. The latter is, however, only for people who already operate online with their own shop and have detailed product data in list form in their merchandise management system. For the manual variant, simply fill out the forms, under "Inventory> Add product".
Another tough process is the listing of products that are not yet in Amazon categories and do not have any sellers currently. Check beforehand whether your article is already in the marketplace. A normal search in the customer area or targeted search for a product code is usually sufficient.
However, if you would like to sell your own brand and gradually expand it with new products, its known as Private. Sellers buy unbranded products from a manufacturer, have them branded and sell as their own bran. There are already products on Amazon, which have a strong demand but are worth improving.
Amazon system supports the EAN (European Article Number), ISBN (International Standard Book Number), UPC (Universal Product Code), and the [color=rgb(3, 169, 244) !important]ASIN (Amazon Standard Identification Number). Each product receives in addition from Amazon. If you can not find your article under any of the mentioned data, it was obviously not yet listed. This applies to products that you have produced yourself, have them manufactured, or have their own logo printed on them.
Before you can list on Amazon, you need an individual EAN or GTIN (Global Trade Item Number). There are numerous providers where you can purchase your codes. The codes are not exactly cheap and come with the smallest package (1000 codes) with 230 € plus 150 € annual fees. Plus VAT.
KEYWORDS FOR THE PRODUCT SEARCH
If you list your products on Amazon, you have extensive documentation available. [color=rgb(3, 169, 244) !important]The search words/keywords that you add to a product when you create it plays a particularly important role in how much the product will be found by customers. Always put in the shoes of a potential customer and try to figure out which search terms might be searched exactly for your product.
The better your choice of keywords, the more likely your product is to be found. You can enter the words all in sequence, just separated by a comma or space in the field for general keywords until you get the ideas or the place to go out. The Platinum keywords are so far only for Premium Sellers in the USA and not for first-timers.
A really great tool when searching for keywords is SellerApp [color=rgb(3, 169, 244) !important]Amazon Keyword Research tool. The search queries are 99% accurate. You can choose any Amazon marketplace on the Chrome-plugin of the keyword tool. The word you type into the search is then supplemented by all search-query word combinations, which are still searched with the word entered by you at Amazon.
THE PRICE
On one hand, your prices depend on how many customers are going to buy from you, what profit you get, or whether you will never sell your goods. Setting a reasonable price is not easy, but these values ultimately determine whether you can live with your Amazon business, or will you fail.
If your prices are too high, then you would theoretically earn a nice margin when selling the product. Your offer is probably not one of the most sought-after, which in turn means that only a few, or no one will decide to buy from you, but instead, the competition is the priority.
But the whole thing is also reversed. If you set the selling price so low that most customers opt for your offer, then your profit is likely to be so short that you will have little joy, or even make a huge loss. Your pricing should be based on a balanced relationship between sales and profit. It is important that you take into account all costs.
There would be your own purchase costs, the shipping fees, the packing material, any import and general taxes you have to pay, advertising, commission which you have to pay to Amazon. Always keep in mind that the revenue you earn is not the key to success, but the profit you earn by selling your products. You can try SellerApp's [color=rgb(3, 169, 244) !important]Free Amazon FBA Calculator to understand more about revenue and fees.
For beginners in the online trade, it frequently happens that they suffer losses because of low prices, which rob them already in the short term of their existence. 100,000 € sales may sound spectacular but are worth nothing if no profit comes out of it. The free Amazon calculation tool helps you here tremendously.
THE COMPETITION MATTERS
The price of your product is never an isolated value. It is always closely linked to the prices of other providers. This is particularly true for a marketplace like Amazon, where the customer is always faced with the prices of your competitors in direct comparison. Just as you hope to pay attention to the offers of the competition within the scope of your prize-fixing, your prices also have an influence on the behavior of your competitors, so you should keep an eye on them. A regular cost check of the products you offer is therefore indispensable from a competition point of view.